Friends of NADO Charity Golf Day 2021
4 May 2021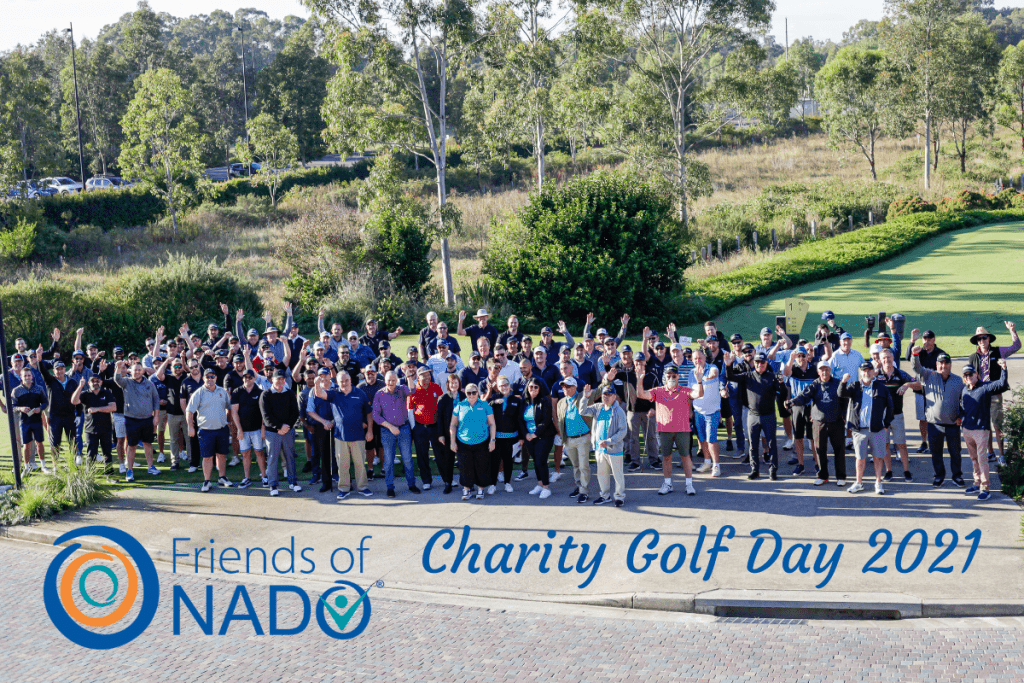 On Friday 16th April 2021, NADO held its third annual Friends of NADO Charity Golf Day at Stonecutters Ridge Golf Club with supporting partner Elite Sand & Soil.
The day commenced with a glorious sunny 7am breakfast and all 31 teams heading out to the rolling greens to start the fun-filled competition.
With 37 game, auction and raffle sponsors, the support from this years' event exceeded all expectations on the day. Since our first event in 2018, several local businesses have been amazing long-time supporters of this event including Elite Sand & Soil, Reozone, ABCOE and Mitronics, along with other businesses including Merrick Property Group, Complete Recruitment Solutions, Terry White Chemmart Penrith, Holiday Inn Sydney St Marys and Platinum Roofing Specialist who have partnered with NADO since 2019.
The funds raised from previous events have made a huge impact on NADO's ability to develop new services for people with a disability, including an extensive refurbishment of a much-needed respite property located in Winmalee. This year NADO's goal of raising $40,000 at the Friends of NADO Golf Charity Day, to support the purchase of all ability sensory equipment was quickly exceeded, with sponsorships and donations reaching over $58,000.
"After a difficult year dealing with Covid, and the cancellation of all events, our goal this year was to reunite our supporters, have a fun day and raise funds for our new initiative, Share My Ability – an all-abilities sensory activity centre" said Denise Heath, CEO of NADO. "To our delight, money raised on the day from the generosity of local businesses and players exceeded our expectations raising nearly $20,000 more than we hoped for."
"Well done on such a successful day and thanks for the opportunity to be involved." Paul Merrick, Merrick Property Group.
"We were so grateful to once again be part of the NADO Charity Golf Day last Friday. We have been a proud sponsor of this event for several years and are thrilled to see the funds raised for the Sensory Activity Centre". Liz Smith, Complete Recruitment Solutions
"Well done, you have once again done a tremendous job on organising and running a very successful day." Aaron Hadfield, Reozone
A big congratulations to our Winners:
1st Place – Sultan of Swing – Doug Robinson, Craig McWilliams, Percy Madon and Mark Allaby
2nd Place – Bruce Almighty's – Bruce Felsch, Geoff Thornton, Jason Shone and Tony Wicks
3rd Place – Merrick Property Group – Paul Merrick, Craig Malvern, Darren Tierney and Tony Wright
With RED Group taking home the Wooden Spoon – Reyce Dimech, Jose Bautista and Luke McWhirter.
Our novelty hole winners included:
NTP 6th Hole – Peter Campbell
NRT 16th Hole – Earle Carvin
Longest Drive – Ben Grogan
Mystery Hole – Seemab Abar
Putting Green – Dale James with a hole in one.
A huge shout at to the following businesses:
Supporting Partner: Elite Sand & Soil
Drinks Sponsor: Evergreen Turf
Lunch Sponsor: Dixon Sand
Prize Sponsor: Fulton Hogan
Cart Sponsor: Mack Trucks Australia
Breakfast Sponsor: Reozone
Hole Sponsors: Platinum Roofing Specialists, Mitronics Corporation, Complete Recruitment Solutions, Signace, Daimler Trucks Huntingwood, Gallagher Australia, Terry White Chemmart Penrith, ABCOE, Holcim, Sydney Cricket Ground (SCG), Merrick Property Group, Crown Scaffold, Australian Turf Club, ROCKCOTE, Holiday Inn Sydney St Marys, Elite Turf Projects, RED Electrical and Fire Services, Allotrac and Elite Haulage
Thank you to the following Businesses who kindly donated to our Raffle and/or Auction on the day.
Elite Sand & Soil, GWS Giants, Reozone, Jordan Zunic Golf, Stonecutters Ridge Golf Club, Hoyts Australia Penrith, Sittano's Bar & Restaurant, ABCOE, PoppiTino, San Churro Penrith, The 19th Golf Driving Range, iFLY Indoor Skydiving and Maldini's By The River.
We are always grateful for the support of the community to help us create new opportunities for people living with a disability. To find out more details on how you can partner with NADO as a Friend of NADO, contact Linda Wilson, Community Engagement and Sponsorship Manager on 1300 738 229 or email [email protected].