Friends of NADO
Together We Can Transform Lives
Friends of NADO is a donation program which was established in 2014.
Through the generosity of our Friends of NADO program, we have been able to purchase important resources, including wheelchair accessible vehicles, home modifications and sporting resources.  
Becoming a Friend of NADO is an opportunity for the local business community to partner with NADO, a trusted disability service provider, to underpin our high quality services, programs and resources.
For just $85 per month (tax deductible) you can help us to assist our vision of "Positive Futures for People with Disability."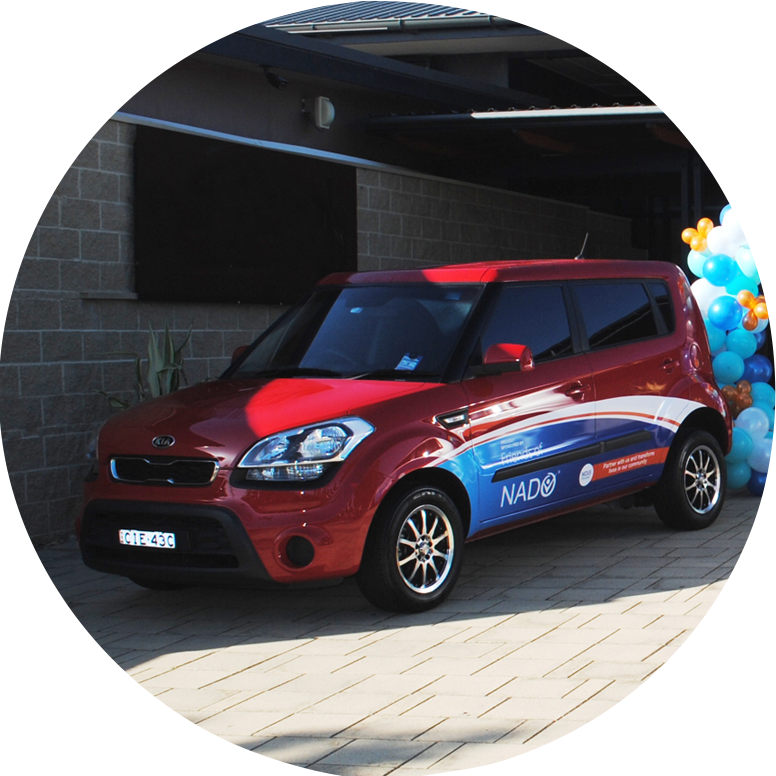 Benefits of becoming a Friend of NADO
As a Friend of NADO you will:
Support people with a disability
Strengthen our Community
Receive a framed Certificate of Appreciation and hand made gift for your business
Be acknowledged in selected NADO publications eg Annual Report and Newsletters
Be acknowledged on the main page of our website, as well as under our Friends of NADO partners page with a direct link to your website
Be acknowledged on our Facebook Page
Yes! I would like to become a Friend of NADO
If you would like to find out more about how your business can help us make a positive difference to the lives of people with a disability, please submit your details below and we will be in touch!
Alternatively, please contact Linda Wilson – Community Engagement and Sponsorship Manager on 1300 738 229 or email [email protected]
Here is why some of our current Friends of NADO partner with us
"We are really proud that ABCOE has been able to partner with NADO. The work that they do in the community to enrich the lives of their clients and the community is very much aligned with the values that ABCOE has as a community-based business in the broader Penrith area. We applaud the staff and management for the role that they play in making a difference to the lives of others and we encourage everyone to support the NADO organisation"
Rodney Macnamara – Managing Director, ABCOE
"The battle for the NDIS opened my eyes to the ongoing plight of people with disabilities and especially their Carers. Being aware of NADO and its exceptional work locally in respite care, all with little or no fanfare, I wanted to help".
Brendan McKeown – Owner, Clickmedia Digital Printers
"NADO is a fantastic organisation that is really making a big difference in the lives of so many people. We are proud to become a Friend of NADO and to support them in their mission to enhance the lives of their clients and the community".
Anil Puri – Owner, Chan & Naylor Business Coaching
Find out more
If you would like more information about any of our services, please contact us today.