Friends of NADO Charity Golf Day
Proudly supported by Elite Sand & Soil
The Friends of NADO Charity Golf Day was established in 2018 and is NADO's prestige annual fundraising event.
This event is a fun filled day and not only will you be supporting NADO, but it gives you an opportunity to network with like-minded organisations.
We believe that by strengthening the relationship between NADO and our business community, we strengthen the bond between people with disabilities and their communities.
Friends of NADO Charity Golf Day
Friday 13 May, 2022
Stonecutters Ridge Golf Club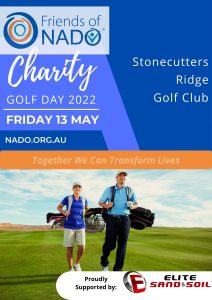 All Sponsorships include:
Recognition in promotional material leading up to and after the event as your chosen sponsorship. This may include:
Website and Social Media
Community e-Newsletter
NADO 2021/22 Annual Report
Event Flyer
A team of 4 per sponsorship, which includes:
4 Player entry and 2 carts
Thank you plaque
BBQ Breakfast and Lunch, plus 3 drink vouchers per player
Practice Facilities – Putting green and Bag Drop Service
Sponsorships Available:
Lunch Sponsor x 1 $3500
Drinks Sponsor x 1 $2500
Prize Sponsor x 1 $2500
Breakfast Sponsor x 1 $2000
Cart Sponsor x 3 $1500
Hole Sponsor x 18 $1000
Golden Ticket Sponsor x 1 $1000
Team of 4 Players @ $760
Alternatively if you have any questions, please contact Linda Wilson – Community Engagement and Sponsorship Manager on 1300 738 299 or via email [email protected] to discuss further.
Thank You To Our Current Sponsors
Friends of NADO Charity Golf Day 2021
Thank you to everyone who attended our 2021 Friends of NADO Charity Golf Day held at Stonecutters Ridge Golf Club on Friday 16 April, 2021.
A huge shout out to our Supporting Partner – Elite Sand & Soil and to all of our amazing Sponsors. It was fantastic to see a number of our sponsors continue to support our day and come back year on year,  as well as welcome some new sponsors.
We were also fortunate enough to have a number of businesses donate items to our Auction and/or raffle on the day and we thank them for their kind donations.