Friends of NADO Charity Golf Day
Proudly supported by Elite Sand & Soil
The Friends of NADO Charity Golf Day was established in 2018 and is NADO's prestige annual fundraising event.
This event is a fun filled day and not only will you be supporting NADO, but it gives you an opportunity to network with like-minded organisations.
We believe that by strengthening the relationship between NADO and our business community, we strengthen the bond between people with disabilities and their communities.
Friends of NADO Charity Golf Day
Friday 21 April, 2023
Lynwood Golf and Country Club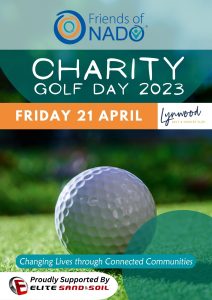 Guest Speaker – Oscar Stubbs: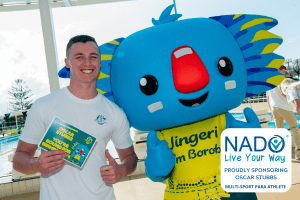 We are thrilled to have Oscar Stubbs join us at this years Friends of NADO Charity Golf Day as our Guest Speaker.
NADO sponsored Oscar when he represented Australia at the 2022 Commonwealth Games in Birmingham, United Kingdom in the men's 50 freestyle S13.
Oscar is a Multi-Sport Para Athlete who was awarded a Tier 3 Scholarship within the 2022 Sport Australia Hall of Fame Scholarship and Mentoring Program.
Oscar was born in Penrith in 2000 with optic neuropathy and congenital sensory nystagmus, which is an eye disorder which disturbs a person's optic sensor and leaves them with limited, tunnel vision.
Oscar started swimming at the age of two and throughout his childhood played many sports including football, cricket, athletics, and tennis. He was selected in the Green Shield Representative cricket team at age 16 alongside able-bodied players, and later made the NSW Blind Cricket team which won the National Cricket Inclusion Championships in 2018, 2019 and 2020.
Transitioning to senior competition, Oscar has a classification for swimming (S13/SB13/SM13) and for cricket, football, athletics and tennis (B3), setting up the possibility for future international competitions including the Commonwealth Games and Paralympic Games.
Oscar is a true inspiration and we look forward to hearing him sharing his journey with us.
All Sponsorships include:
Recognition in promotional material leading up to and after the event as your chosen sponsorship. This may include:
Website and Social Media
Community e-Newsletter
NADO 2022/23 Annual Report
Event Flyer
A team of 4 per sponsorship, which includes:
4 Player entry and 2 carts
Thank you plaque
BBQ Breakfast and Lunch, plus 3 drink vouchers per player
Practice Facilities and Putting green
Sponsorships Available:
Lunch Sponsor x 1 $3700
Drinks Sponsor x 1 $3000
Prize Sponsor x 1 $2500
Breakfast Sponsor x 1 $2000
Cart Sponsor x 3 $1700
Golden Ticket Sponsor x 1 $1500
Hole Sponsor x 18 $1000
Team of 4 Players @ $760
Alternatively if you have any questions, please contact Linda Wilson – Community Engagement and Sponsorship Manager on 1300 738 299 or via email [email protected] to discuss further.
Thank You To Our Current Sponsors
Friends of NADO Charity Golf Day 2022
Thank you to everyone who attended our 2022 Friends of NADO Charity Golf Day held at Stonecutters Ridge Golf Club on Friday 13 May, 2022.
A huge shout out to our Supporting Partner – Elite Sand & Soil and to all of our amazing Sponsors.
26 sponsors saw both Sponsorships and Teams selling out, we were at full capacity. We were thrilled that this was our biggest event to date.
With our day falling on Friday 13th and heavy rain leading up to our event – thankfully holding off on the day, we were not going to let it stop us from another successful event, with our attendees helping us exceed our fundraising goal of $50,000 for new sensory experience equipment at Share My Ability.
It was fantastic to see a number of our sponsors continue to support our day and come back year on year,  as well as welcome some new sponsors.
Thank you to everyone who attended and supported our day.