NADO Wins Voice Project's Best Workplace Award 2023
30 May 2023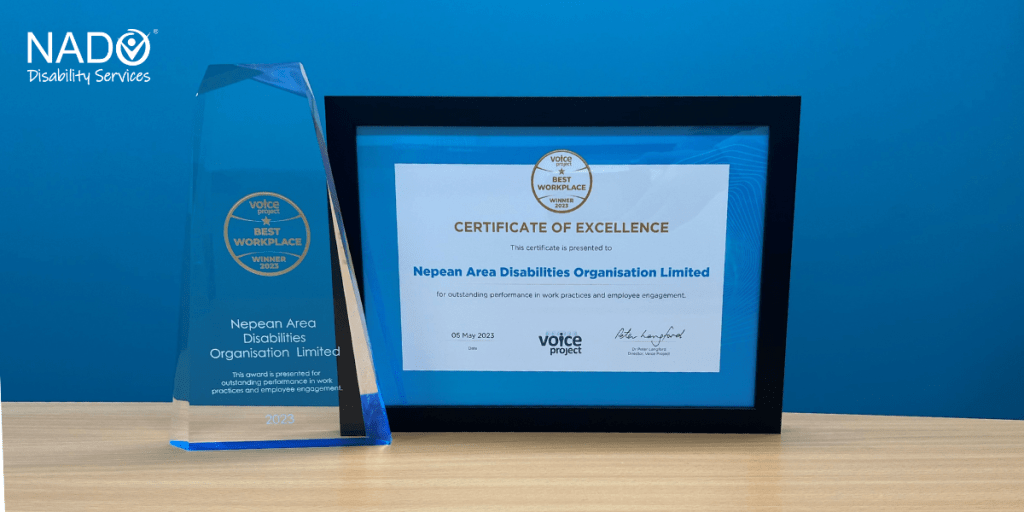 NADO Disability Services is proud to announce winning a Voice Project's Best Workplace Award for 2023! This award recognises organisations who have achieved exceptional levels of employee engagement and satisfaction.
The non-profit community-based charity is a registered NDIS Provider and has been supporting people with disabilities, their families and carers across Western Sydney and the Blue Mountains for over 40 years.
NADO CEO, Denise Heath commented "We are thrilled to have won this award, it is a testament to the professionalism of our organisation and to the systems we have put in place to help support our workforce. We pride ourselves on delivering quality services because we believe our staff are key to the participant experience".
The Voice Project is an independent company which aims to give people a voice and developed a survey process to gather information to help organisations and leadership teams to inform better decision making to drive employee engagement and organisation performance.
Alex Kashian, Senior Consultant from the Voice Project wrote "Your employees report exceptional levels of engagement and satisfaction. In your most recent employee survey, NADO exceeded our two criteria: averaging at least 80% staff satisfaction, and at least 10% above the industry benchmark. Only clients with exemplary scores meet these criteria. Organisations only need to meet one in order to be named a best workplace, but NADO has achieved both with an average score of 84.33% and 10.86% above the industry benchmark. Your organisation is therefore identified as an exceptional place to work. Congratulations again for this amazing achievement".
As award winners for the Employer of Choice 2021 and the Great Place to Work 2022, this award for NADO Disability Services lends to their quality reputation of supporting and engaging a diverse and expanding workforce.
For more information on the NDIS services that NADO provides please visit https://nado.org.au/services/