NADO Sponsors Inspirational Para Athlete
28 Jul 2022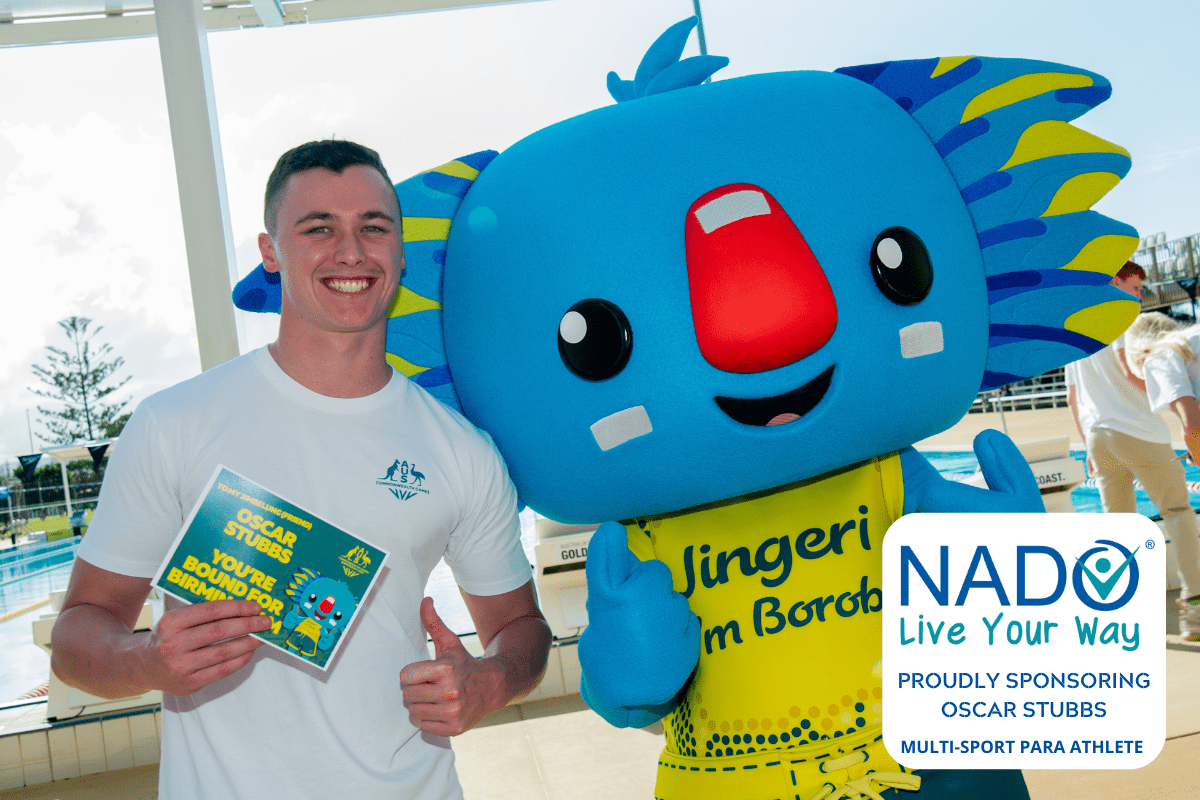 NADO is excited to announce its sponsorship for Oscar Stubbs in the upcoming 2022 Commonwealth Games! 21-year-old Oscar, who was born in Penrith is a Multi-Sport Para Athlete and commenced swimming at an early age. He has played many sports over the years including football, cricket, athletics and tennis. He was selected in the Green Shield Representative cricket team at age 16 and later made the NSW Blind Cricket team which won the National Cricket Inclusion Championships in 2018, 2019 and 2020.
Oscar was born with optic neuropathy and congenital sensory nystagmus, which is an eye disorder that disturbs a person's optic sensor and leaves them with limited tunnel vision.
Not letting his disability hold him back, Oscar has achieved a number of multiple state and national records and also plays Vision Impaired Tennis for NSW and Blind AFL for St Kilda. He is also committed to inspiring young athletes with disability to try new sports and challenge themselves. Oscar will be competing in the Men's 50m S13 Freestyle this Saturday 30 July at the Commonwealth Games in Birmingham.
"The past few years have been stalled by COVID restrictions, but as the world has opened up, I have been so lucky to have some opportunities to play the sports that I love and hopefully show other athletes with a disability that our opportunities truly are endless.  I recently received my Australian Dolphin pin and am honoured to receive pin #P321.  I cannot thank NADO enough for your kindness and also the platform to promote disability sports. I feel so lucky to have had the opportunities I have had and am hopeful that other people like me can see that living with a disability does not mean you can't achieve great things." quoted Oscar Stubbs.
"Our sponsorship of Oscar is aimed at showcasing the positivity and possibilities of people with disability in sports. It's about promoting healthy activities, developing aspirational goals, and building strong communities." stated Denise Heath, NADO CEO.
The opening ceremony will kick off at 8pm local time on Thursday July 28 (for Aussie fans, that's 5am AEST on Friday July 29). The closing ceremony will bring things to an end on August 8 in Birmingham — or the early hours of August 9 Down Under. You can watch Oscar in his heat this Saturday 30 July from 7:30pm – 10:15pm AEST on 7 Plus.
Good luck Oscar, we will be cheering you on from our TV sets!