Staying Positive Throughout COVID-19
1 Apr 2020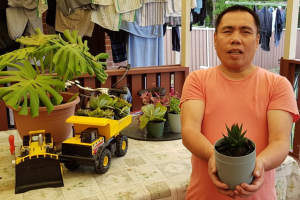 In the current extraordinary times, NADO and all businesses and organisations are having to evolve fast to keep within the guidelines of the Australia Government and health authorities relating to the new Coronavirus (also known as COVID-19).
As you may be aware this new virus is causing havoc around the world and testing the boundaries of hospital and health systems in various countries. NADO is committed to our part of "curving the line" in the aim to stop the spread of this disease and to keep people safe.
At this point in time we have paused our social activity programs for both adults and children with disability and are abiding by all social distancing rules and regulations to keep both our participants and staff safe in the services that are currently in operation.
Whilst we are going through this unusual period, we are so proud to see how strong the spark of positively is in these trying times. One thing that self-isolation has in its favour is the ability to finally have the time to get to those little projects around the home. In some of our Group Homes, we have seen time taken in furniture restoration, creative potting, healthy food preparation, indoor singing, dancing and fitness, getting out in the back garden for some vitamin D and additional spring cleaning both inside and around the home.
With NADO staff coming to collaboratively work together we've been able to have an informative and streamlined transition into the new rules surrounding isolation, taking this as an opportunity to continue to build on enjoyable and educational independent living skills for the participants.
NADO Support Worker Carey commented "The changes in routines and daily life has been handled with such a positive outlook, a lot of reassurance, support and explanation from all the staff as to what's happening in the world and in their home has helped the participants handle the transition well… together we'll get through this and come out stronger than ever."
There are several resources to help explain the current situation and how this affects people with disability and the services that NADO provide.
These include:
If you have any queries relating to disability services and COVID-19, please contact NADO reception on 1300 738 229 or email [email protected].