Celebrating Success for 2019
19 Aug 2019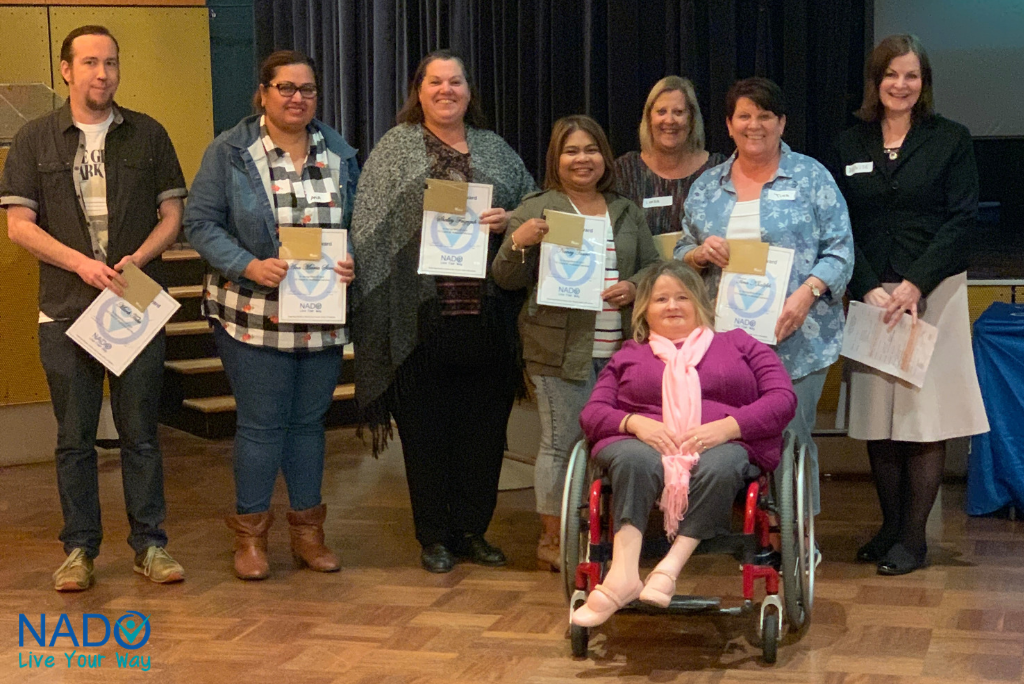 The annual NADO staff conference was held on Thursday 15th August 2019 and was a great success with over 160 staff in attendance. The purpose of this event is to collectively bring together all NADO employees for a day of celebration, providing industry information, as well as acknowledging those who have gone above and beyond their everyday job descriptions or provided a long lasting loyalty with our organisation.
Held locally within the Penrith region, the day also featured special guests including one of our very special sponsors Reozone, who very kindly donated our Employee of the Year Award which provided the winner an opportunity to attend the Australasian Society for Intellectual Disability Conference to be held in Adelaide later this year. The conference is the premier event for the Disability sector in Australia and the Asia Pacific region with this year's theme being 'The Journey to a Good Life – Taking Control' and showcases current research and practice across both Australia and New Zealand.
Proud winner of this year's Employee of the Year award was Victor Santos, who was voted by his fellow peers for demonstrating NADO's values of connecting, learning, leading, responding and inspiring. Congratulations to Victor!
NADO also takes pride in recognising those staff who have achieved a long service period within the organization and reward the loyalty and dedication that they have provided to both our participants and their families.
A stand out at this year's event was guest speaker NADO participant James Cobban. James, a young man who was born with Cerebal Palsy presented to our group information relating to the Speak Out Group, a group in which he helped to bring together and one which continues to inspire those with disability to have the confidence and knowledge to be able to speak up about their concerns and individual issues.
Board member Lauren Hughes also attended the event and was the proud distributer of all the recognition awards. Additional speakers included NADO CEO Denise Heath and relevant representatives from the executive team.
"The Annual Staff Conference is one of my favourite events on the NADO calendar. A day in which we can share in our successes, our future plans and feel connected to our organisation's mission and vision. It is an invaluable opportunity for our rapidly growing team of staff to get to know each other, to stay in touch with developments and to contribute ideas for the future. Even with our expanding team, the culture of care and professionalism stays strong – it is true to say our team work with their heads and heart." commented Ms Heath