Romeo's Journey – A True Inspiration
10 Jul 2019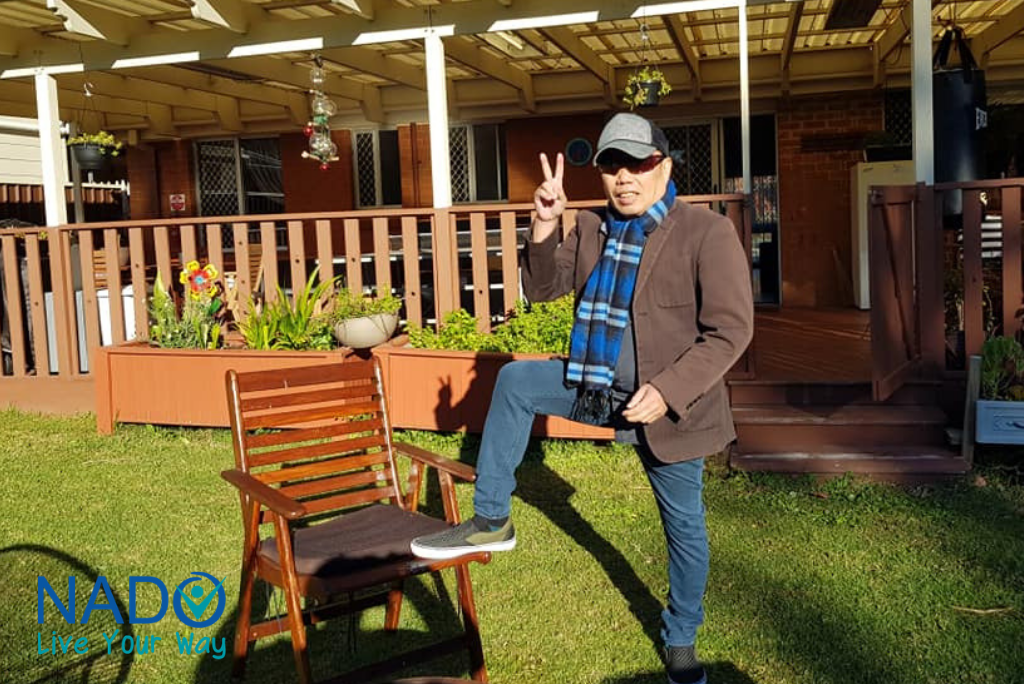 On Tuesday the 12th of June, a very excited Romeo Chua returned to the Philippines to visit his family.  Romeo had previously thought that he would never see his native country and family again as, five years ago Romeo's family, fearing for his welfare through lack of support, had sent Romeo back to Australia following the death of his parents. The fact that Romeo was now returning to the Philippines on a holiday he had chosen, helped plan, and worked hard to save for, is a testament both to Romeo and the support NADO has provide to Romeo since 2017.
Romeo is a 58 year old man who was born in the Philippines without disability. After he finished school Romeo went on to study a Bachelor of Marine Biology and, upon attainment of his Bachelor Degree, migrated to Australia in 1992. Romeo worked various jobs in Australia and in 2001 was working as a security guard at the National Australia Bank in Kings Cross, Sydney. It was here that Romeo was viciously assaulted while at work which left Romeo with an Acquired Brain Injury. Following his ABI, Romeo had no short term memory, suffered paranoia, psychosis, and severe depression.
Romeo was no longer able to work or look after himself and went back to the Phillipines to be taken care of by his parents. Following their deaths Romeo's brother, Ronaldo, brought him back to Australia and, in 2015, a psychiatrist diagnosed Romeo with schizophrenia noting that Romeo was unable to perform basic activities of daily living, could not follow simple directives, and was living his life closed off to the world giving one word answers only when spoken to.
Unable to provide the support that Romeo required and highly concerned about Romeo's quality of life, his brother Ronaldo reached out to NADO to enquire about the support offerings that they could provide to his brother.
Romeo commenced at NADO by the River in Penrith and attended the community day program 5 days per week. At the same time, NADO was opening a new Group Home within the Nepean region and Romeo's family was very happy when a place became available for Romeo to move into.
Upon moving into the house, Romeo isolated himself to his room leaving only to come to the table to eat silently with his housemates and then returning back to his room. Staff supported Romeo 1:1 for all activities of daily living. When offered choices, Romeo would not make one seeking only to say 'Yes' to all questions as though not wanting to rock the boat.
In 2018 it was decided to match Romeo with a support worker, Victor, who was also from the Philippines and spoke Romeo's native language, Tagalog. Victor also understood Romeo's cultural and social norms and was able to educate the staff in the best and most polite ways to support Romeo. Victor took Romeo out on his 1:1 support days to Blacktown where a large Filipino culture resided and Romeo immersed himself in this for the day. On the way back they would stop at a market and purchase large amounts of ingredients to prepare a Filipino meal for Romeo's housemates and lunches for Romeo for the next week.
Romeo began to open up. He became interested in clothes, personal hygiene, and learning how to do skills independently. Romeo purchased a whole new wardrobe, got a handsome haircut and started walking around with his shoulders back, proud when people noted the change in his appearance.
In October 2018, Romeo spoke about how he used to work and make money and that it had made him happy. When it was suggested he could still work, Romeo was adamant this was no longer possible. Staff supported Romeo to give working a go by doing a trial at Endeavour Industries, if it didn't work out, Romeo could continue as he had been. Happily, Romeo continues to this day to work at Endeavour Industries, earning employee of the month twice and getting a recent promotion.
Today, Romeo, without prompting, performs many activities of daily living independently including:  personal hygiene, washing, his house duties and maintaining of his room.  He engages in an active social life, both at work, his day program, with his Men's recreation group on Saturdays and with his housemates. Romeo makes all the choices and decisions regarding his life and his family are so very happy with the change they have witnessed in Romeo. Most importantly, Romeo says he is happy and is proud of the life he has created.
Romeo has made plans of the things he wants to complete this year. The first was the Philippines, then a Snow Trip, and at the end of the year, a Cruise, all paid for with money he has earned through working. And the best thing is, Romeo now knows and believes he will do these things as NADO will support him to achieve anything and everything he aspires to in his life.
For his recent holiday Romeo's brother, Ronaldo, asked NADO not to tell his family in the Philippines that Romeo was returning. Ronaldo stated that he wanted to surprise them with the independent, curious, well-dressed and empowered young man Romeo had become.
Romeo is a true testament to the quality support NADO provides to its participants and the remarkable improvement to quality of life that results.