Kicking Goals With NADO Touch Football
20 Jun 2019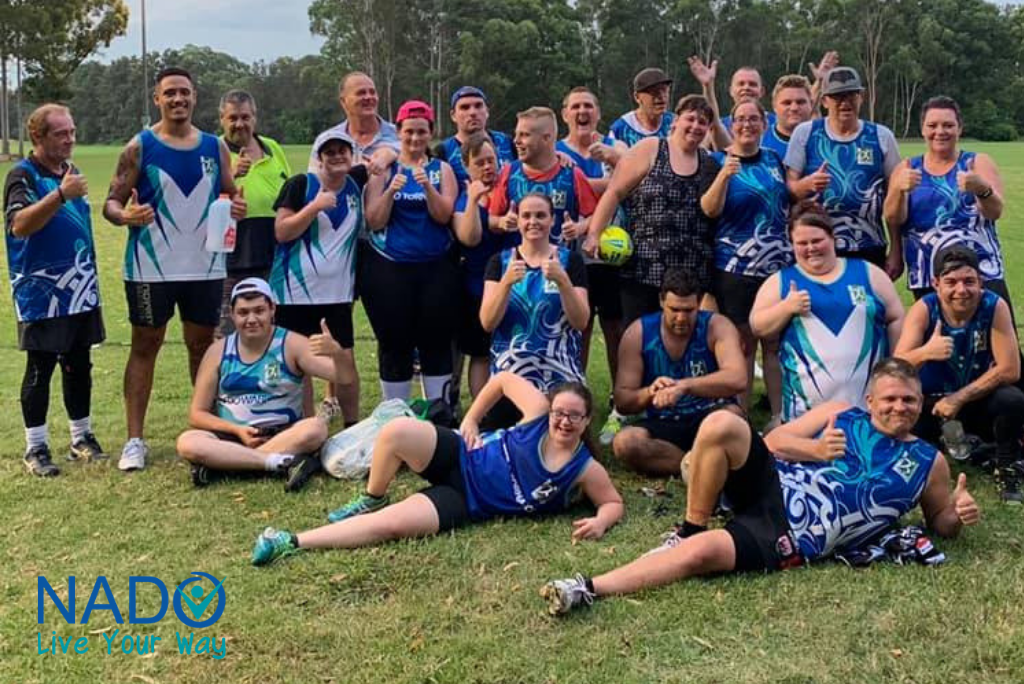 In 2013 NADO Operations Manager, Brooke Wilke decided to put together a Penrith Touch Football team that offered people living with a disability the chance to join and represent their local area in a sporting and competitive team environment. Through her personal involvement in touch football she came to realise that young people with intellectual disability were avid football fans, but because of their disability hadn't been offered the opportunity of playing themselves
 This concept would provide new players the opportunity to build and form new friendships within a team environment whilst learning new skills, increasing their motivation, self-esteem and confidence – in addition to creating a sense of belonging, connection and social inclusion
Brooke, team organiser comments "At first, when I entered the team into the competition, I was asked if I wanted to start up a "special" comp. There were concerns that other teams would not want to play against a team of people with disability. However, on the contrary, we received an overwhelming wave of support and encouragement".
 The Warriors were the first team to enter the competition and the new-found players were enthusiastic, excited and proud to be a part of a mainstream sport. The training sessions included learning about teamwork, ball skills and personal development in dealing with both winning and losing. Some players have specific needs including poor visibility which requires the aid of a support worker to guide them on the field and everyone has a great time throughout the duration of the game.
Today, the NADO Penrith Touch Football program has three teams and has made a huge impact on the lives of more than 70 young people who have taken their passion for football from the sidelines to centre field.
With growing experience, confidence and new found skills, the teams have also entered other comps such as the Vawdon Cup, Battle of the Border on the Gold Coast and the Bundy Cup in Bundaberg.
 The big grand final for 2019 was held on Tuesday 11th June with the NADO Jets taking the win against Storm, final score (a close one!) at 7 to 5. A big congratulations to all players and well done!
The next season kicks off in September 2019, so if you're interested in joining give NADO a call on 1300 738 229 or email [email protected]