NDIS Allied Health and Therapy
A caring and experienced team of Allied Health Professionals
Allied Health and NDIS Therapy services that focuses on building peoples strengths to improve quality of life and reach their goals.
The NADO Allied Health Tean offer a range of professional  including Psychology, Physiotherapy, Occupational Therapy and Positive Behaviour Support.
The Allied Health Team work with people of all abilities across Western Sydney to improve overall health, wellness and the capacity to participate in everyday life whether it be at home, in school or within the workplace.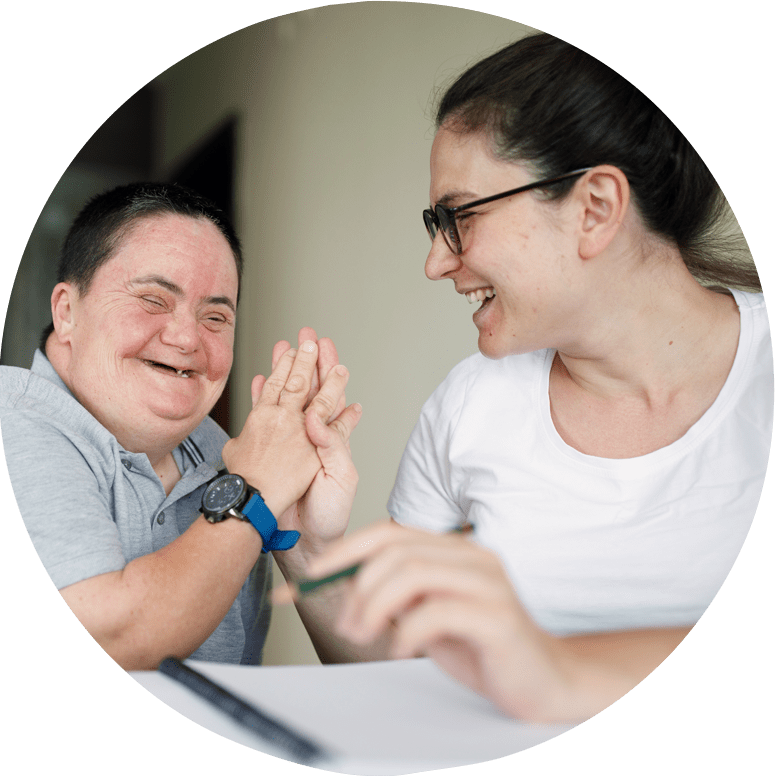 We offer psychological and counselling services to NDIS participants, with a focus on those with physical, developmental and intellectual disabilities. Our team of professional male and female Psychologists have many years of experience providing NDIS assessments and intervention with both young people (aged 7+) and adults who experience significant distress and social impairment due to their disability.
Our services can provide support for people with:
Addictions
Anger Management
Behaviour Assessments and Support
Cognitive and Adaptive Functioning
Communication Support
Emotional Well-being Support
Recovery from Trauma, Grief or Abuse
Building Self Esteem
Stress, Anxiety and Depression
Relationships
Physiotherapy is available for in-centre sessions at Share My Ability, a Sensory Activity Centre located in Penrith that is inclusive and suitable for all ages and abilities. Physiotherapy can help to assess, treat and prevent a wide range of health conditions and movement disorders. Physiotherapists work with people of all ages who need support to improve their strength, movement and flexibility so they can achieve their goals.
Physiotherapy can assist in:
• Assessing and diagnosing injury or disability
• Improving functional capacity, motor control and coordination
• Restoring and improving strength and joint range of motion
• Improving gross and fine motor skills
• Addressing physical mobility, gait retraining and balance
• Help with managing chronic pain
• Prescription of mobility aids and assistive technology
• Targeted therapy to help you meet your goals
• Performing functional capacity assessments for NDIS participants
• NDIS funding recommendations and report writing
Diversional Therapists specialise in developing leisure and recreation programs to empower, enable, stimulate, and enhance personal growth and wellbeing. Our Diversional Therapy sessions are available to all ages and are held inside our Sensory Activity Centre – Share My Ability (located in Penrith). Our aim is engage with our clients to understand who they are and work in collaboration with them to develop programs that aim to support and encompass their passions, dreams and goals.
Positive Behaviour Support
What is Positive Behaviour Support?
Positive Behaviour Support (PBS)  is an evidence based approach to behavioural intervention and has a primary focus of increasing quality of life. It looks at a whole person including their past experiences, their current environment, their presenting challenges and their disability.
How can Positive Behaviour Support help me?
The primary focus of Positive Behavioural Support is to identify and understand why inappropriate or challenging behaviours may exist in a person – and to provide a range of solutions of how these can be improved.
What should I expect?
When accessing behavioural support, you'll have an opportunity to meet with one of our friendly and highly qualified therapists that will conduct an initial assessment. The assessment will aim to uncover how you like to communicate through behaviour, and how this could be affecting other people around you.
After this first step has been completed, the therapist will then conduct a second assessment with a visit to your home and other relevant environments to determine how these could be influencing communication or behaviour.
What happens then?
After the initial meeting and assessment has been completed, the next step is to implement a positive behaviour support plan. This plan will outline all of the strategies that are required to  support you in developing positive outcomes.
How often is the plan reviewed?
The plan is reviewed after 3-6 months to check the effectiveness of the strategies and see if there have been any changes in the participants behaviour.
Who do we work with?
We provide Positive Behaviour Support to NDIS Participants aged 7 years and above with all disabilities and complex mental health conditions.
Occupational Therapy (OT) can assist people to achieve their goals by building their knowledge and skills, finding new ways to do activities or making changes to the environment, tasks or equipment to suit their individual needs.
Our range of OT services include:
Behavioural Intervention
Daily Living Tasks (eg dressing, cooking)
Equipment Prescription
Fatigue Management
Fine and Gross Motor Skills
Functional and Cognitive Assessment
Basic Home Modifications
Independent Living Skills
Mobility and Safety
Relationships and Sexuality
Sensory Processing and Self-Regulation
Social and Communication Skills
School and Employment Support
Contact us today to discuss how we can support your needs.
Find out more
If you would like more information about any of our services, please contact us today.