Speech Pathology at NADO
1 May 2020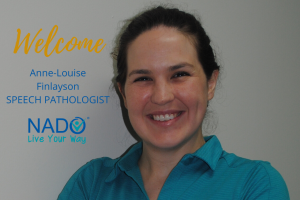 Speech pathology techniques are used to assess and treat those who have communication disorders and/or swallowing difficulties. Speech pathology support can be provided to people who have communication disorders and/or swallowing difficulties that develop in childhood or are acquired as a result of age, injury or illness, such as a stroke or brain injury.
Different types of intervention include articulation therapy, assessing and assisting the understanding and use of language, fluency, voice and dysphagia management and the implementation of alternative means of communicating (e.g. picture boards, ipad apps etc). A speech pathologist will provide appropriate services depending on the type of swallowing and/or communication disorder
NADO is excited to announce that speech therapy services are now available at NADO and would like to warmly welcome Anne-Louise Finlayson, the newest member to join our Allied Health and Therapy Team.
Originally growing up in country QLD, Lou started out working as a receptionist in the local medical centre where her mother worked as a GP and where she found her initial passion for caring and helping people.
Lou then went on to study Opera at the QLD conservatorium of music, making her experienced and very passionate about vocal pedagogy.
After studying abroad and upon her return to Australia, she then went onto complete her Master of Speech Language Pathology at the University of Sydney and become a fully qualified speech therapist.
Lou seeks to empower her clients and their families and is passionate about working towards people communicating effectively and independently.
Lou always endeavours to expand her knowledge and improve her clinical skills by participating in educational workshops, conferences and other activities as part of the Professional Self-Regulation program through Speech Pathology Australia. She loves developing resources with the aim of educating clients and members of the community about communication and is also trained in basic Keyword Sign.
Speech Therapy sessions are available for both clinic based and mobile bookings within your home or out in the community for people of all abilities aged 3 and up.
For enquiries or booking relating to Speech Therapy in Penrith and Western Sydney, please call us on 1300 738 229 or contact us today. Please note that current COVID-19 regulations are currently in place regarding social distancing and all speech therapy consultations will be done via telehealth pending emergency situations.